Dreamerie Design Gallery
These sites are given as examples of Dreamerie Design's web development work. For more examples of other work, see "Multimedia Development". All our work is custom designed to the client's specifications.

Austnet IRC Network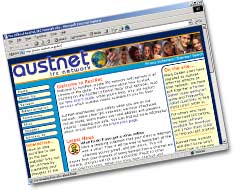 Austnet IRC Network - site for the largest Australian IRC Network.
This was a redevelopment of an existing site which was badly outdated and did not reflect the community into which the network had grown. The new design included java chat and a community section which gives more interactivity to the site, and a complete information re-design so that information is found more easily on the site. Stages 2 and 3 of the redevelopment are planned to be implemented soon, which will see database back ends for some sections, and more content.
http://www.austnet.org/

Emergency Management Online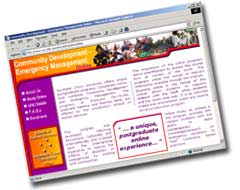 Emergency Management Online - a section of the Southern Cross University's School of Human Services site.
This was a redesign and redevelopment of an existing site, along with addition of pages that were printer-friendly. The old site was confusing to navigate and didn't have any pizazz. The new site was given a facelift, updated, the links and information design was changed, and the site was also optimised for search engines.
http://www.scu.edu.au/schools/hum/emonline/
Inktek website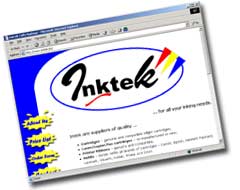 Inktek Coffs Harbour, providers of quality ink cartridges, bulk inks and refill kits, needed a website to promote their business both in Coffs Harbour and to their growing mail-order business.
The site needed to reflect their bright inks, without being overwhelming. The owners also needed to be able to take orders via email from the website, and to update their pricelists by themselves.
http://www.inktek.biz
Karen Lynne Music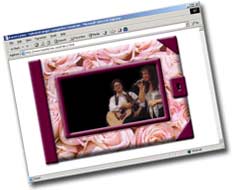 Karen Lynne is a successful country/folk/bluegrass singer. Her site reflects her music and her style. Its intensely personal and includes memorabilia, a gig guide, downloadable songs, and album purchase information.
The splash page of the site includes flash animations and then opens to the main site with a scrapbook theme.
Karen is now maintaining the site herself.
http://www.karenlynne.com
The Satisfied Tummy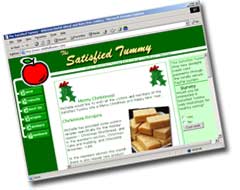 The www.satisfiedtummy.com site was a redesign of a previous site also by Dreamerie Design. The green and red reflect the business brochures, flyers and merchandise. This site to promote a wheat, gluten and dairy-free cookbook and associated products, includes a regularly updated recipe section and kids' recipe section. Other sections include a shop where customers can order products, a business information section, and a section for user feedback.The front page also changes frequently to direct attention to the members-only site, which contains database driven discussion areas, "Ask Us" answers to questions and latest product news. This site has recently been removed, unfortunately, due to the owner moving into another field.
http://www.satisfiedtummy.com

Christian Outreach Centre Germany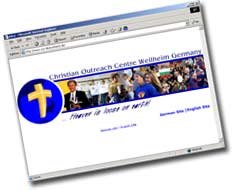 This site for a Christian church in Weilheim, Germany is still under construction (waiting for the German translation of the content). It features a flash animation on the splash page (used to direct to either German or English sites), and small flash animations for titles within the site.
School of Multimedia and Information Technology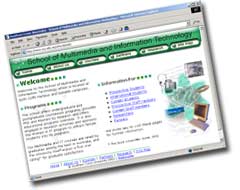 The website for the School of Multimedia and Information Technology was completed as a portal for new and existing students and staff, to find relevant information about not only the School, but also Southern Cross University.
The site includes dhtml drop down menus, light graphics for fast download speed, and various presentation of information.